Did you catch my
Heart Jewelry Inspiration
from last week? Well, here is what I have been up to this past week!
Heart Hoop Earrings
My coworker has a pair of heart hoops that I just love on her. After seeing a whole bunch of heart wire jewelry on Pinterest, I decided I wanted to give these a try. I used this
tutorial by Jenni at I Spy DIY
as my jumping off point.
Techniques
Supplies
20 Gauge, Half Hard, German Jewelry Wire
Tools
Flush wire cutters

Chain-nose pliers
Round-nose pliers
Round mandrel - I used my ring mandrel, however a sharpie, large round pen, or a round make up tube would work too.
Mallet
Bench Block
Directions
Cut two 5" lengths of wire. With your chain-nose pliers, bend both lengths of wire roughly 1.5" from one end.
Use your chain-nose pliers to pinch the wire closer together.
Bend the wire over a round mandrel, starting near the folded wire.
After bending both sides of the folded wire around the mandrel, your wire will now look like this.
Use your chain-nose pliers to bend the wire to form the point of the heart. I approximated where the center should be. If you are off, just bend the bumps a little more around the mandrel.
This is how your wire should look now.
Using your chain-nose pliers, bend the wire at the end of the heart's bump.
Trim both ends of the wires. Using your need-nose pliers, form a p loop at the other end of the wire, as shown.
Hammer your hearts with a mallet. Using a mallet instead of a hammer will keep the round shape.
Use a cup burr or file to smooth the end of the wire.


Ta da! Your very own heart hoop earrings.
After making these, I found the following image on Pinterest by
CCMCouture
: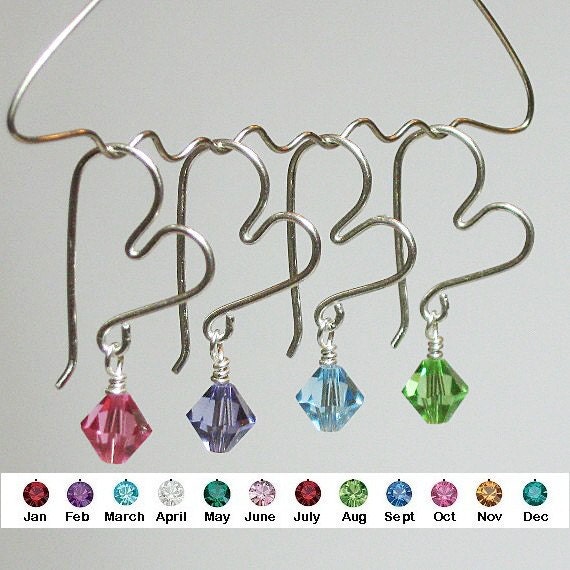 Birthstone Heart Wire Swarovski Crystal Earrings by CCMCouture
Spooky how close these are to mine! I might have to add some beads onto mine. haha!
My tutorial can easily be adjusted to make these earrings. Notice that the top bump is slightly larger than the lower bump. Also, their post for sticking through the ear is longer and instead of bending the wire into a point, they do a P loop in the opposite direction of mine.
Heart Pendant
Using a similar technique to
StudioDax's I Heart Heart's
tutorial, I made this Heart Pendant:
I used 16 gauge, half hard, German Jewelry wire and used a hammer to flatten it. I then wire wrapped garnet swarovski crystals.
What do you think of my pendant?
Guess what! Starting this February 11th and ending on the 21st, you will be given an opportunity to win this Pendant! I will be giving it away as a part of
A Crafter's Dream Group Giveaway
!
I'm so excited! This is my blog's first giveaway! So don't forget to follow me so that you can be reminded of this awesome opportunity to own a handmade piece of jewelry by yours truly!
Linking to: Freedom Fridays | Pin Me | Saturday Night Special | A Pinteresting Party | What to do Weekends | Make the Scene Monday | Creatively Tuesday | Fun in Functional | Live Laugh {Linky}