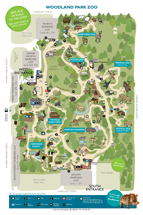 Woodland Park Zoo 2012 map.
Click for an enlargment!
Woodland Park Zoo
We teamed up with our good friends to take the kids (15 yo girl, 11 yo boy, 10 yo girl and 7 yo boy) to the zoo! It was an all day affair that was incredibly enjoyable, partly due to the wonderful company. Since you pay good money for it, we were determined to see every exhibit possible. Boy were we tired afterwards!
Woodland Park Zoo
is
located
in North Seattle, southwest of Green Lake. The zoo has 92-acres of exhibits and 1000
animals
representing over 300 species from around the world. A portion of the proceeds goes towards
conservation
, both local and global projects. When we purchased our tickets, the cashier gave us zoo coins that we then used to vote for a conservation project we wished the zoo to invest in.
The zoo has numerous
activities
scheduled throughout the day. Activities range from feeding giraffes and elephants to different zoo keeper talks. They have hands on activities, like making paper out of elephant poo (yep, you read that right!).
Priscilla the cockatiel and my step son
Our Favorite Exhibit: The Willawong Station
I'm not going to cover each exhibit that we saw, because there were a ton of them! I thought I would share with you our absolute favorite: the Willawong Station. The Willawong station is a house filled with small Australian parrots, including
budgies
,
cockatiels
and
rosellas
. You pay $1 for a stick of seed to feed the birds. The kids LOVED this exhibit.
We all fell in love with Priscilla, who was the only parrot in the exhibit that was once someone's pet. She lingered around the feeding station and actually landed on my step son as soon as he was handed a feeding stick. The other birds had to be coaxed onto the stick, while Priscilla was very forward with what she wanted. She flew from shoulder to shoulder to get herself a treat. She leaned over to me to lick my nose (probably to get salt off of it, since it was humid and I was perspiring). She flew away, then came back and landed on my fiancé, who didn't even have a stick of seed. The attendants explained that she loves bearded men. I'm guessing her past owner must have had a beard. She sat on my fiancé's shoulder for a while grooming his beard.
More Pictures from our Trip to the Zoo
Zoo Camp
While taking a look at the zoo's website to write this article, I came across their
Zoo Summer Camp
program. My step son has been going to the Boys and Girls Club for summer camp for the past 3 summers. He absolutely loved it and I highly recommend it. He always comes home so exhausted from how much fun it is. This kid thinks he should be allowed to stay up till 2:00 AM, but after spending a day at summer camp, he generally crashes around 8:30 PM every night. I love it! haha!
This year was the last year he can go to the Boys and Girls Club as he will be too old for the program. I've been researching summer camp options and think the zoo camp will be perfect. They offer summer camp from 3 to 14 years olds ranging from $145 to $300 per week. They have a 10-12 year olds and a 12-14 year olds program called
Zoo University
or Zoo U for short. He will be 12 years old next year, so I think I will enroll him in the 10-12 year old's class.
The
Zoo U
offers two classes each summer, each a week long. Every year it is a different set of classes, so that kids can attend for multiple years in a row. The classes offered in the summer of 2012 included the following: Animal Management and Living with Wildlife. The Animal Management class is a behind the scenes class for the zoo. The Living with Wildlife class is a look at the wildlife in our neighborhood and how the decisions we make affect wildlife near and far.
The zoo also offers classes throughout the year and also offer some exciting evening and overnight classes. Check out their
website
for more information.
Other Events at the Zoo
There is so much to see and do at the zoo. If you have seen all the exhibits, there are still some great events to draw people to the zoo.
Zoo Tunes
is a great family music affair that happens during the summer. You can visit the zoo for their 4th of July event. There are fundraising parties, like the
Annual Jungle Party
. Check out the zoo's
events calendar
for more family fun events!

Resources
What's your favorite attraction at the zoo? Post in the comments below!